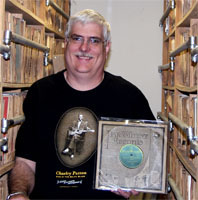 Longtime Blues record collector and expert John Tefteller was the winning bidder at $37,100.00 for a super rare Blues 78 rpm record by Blues legend Tommy Johnson. This is highest price ever paid for a single 78 rpm Blues record and one of the highest prices ever paid for ANY record.
Bidding, on internet auction site eBay, was hot and heavy for the record, and stood at $16,800.OO until the final seconds when the price shot up to just over $37,000.00
The record, Tommy Johnson on the Paramount label from 1930, is one of only two known and verified copies. All other copies of this disc are
presumed lost or destroyed. The two songs on this record "Alcohol And
Jake Blues" and "Ridin' Horse" are considered masterpieces of the genre
and Johnson is one of the Top Five legendary figures in early recorded
Blues music, right along side Robert Johnson, Charley Patton, Skip James
and Son House.
Tefteller, who has been collecting rare Blues records for over 40 years,
already owns the only other known copy and has released the songs
previously on one of his Classic Blues Artwork From The 1920's Calendar
series...but this newly verified record is in vastly better condition
than the other one and Tefteller says he "just had to have it." His
original copy will be sold to help offset the cost of this new one and
he says he is "going to remaster and re-release this new copy next year"
for his 2015 Blues Calendar release. The Blues Calendars come complete
with a 20 to 24 track CD that is included free with each Calendar.
Tefteller picked up his eBay win in person in South Carolina on
Thursday. "I am happy to report to the record collecting world and
admirers of great Delta Blues music worldwide that this newly discovered
copy is in Excellent condition and will be able to be remastered to
sound absolutely superb." The seller was a local Columbia, South
Carolina collector who found the record some years back at an estate
sale. Tefteller says "He absolutely did not realize what he had and how
rare it was until he put it on eBay. Within the first few hours of being
listed on the auction site another collector tried to stop the sale by
offering the seller $4,000.00 for the record. Fortunately, he let the
auction proceed and I was able to win it in the final moments."
Tommy Johnson made a total of five records for the legendary Paramount
label back in 1929 and 1930. He was a little known and very under
appreciated singer/guitar player from Crystal Springs, Mississippi at
the time. His legend and stature has grown tremendously over the years
and his records, especially the Paramount's, are "Holy Grails" for Blues
collectors. Johnson also recorded three records for the Victor label,
which are desirable, but enough copies have survived so that they will
"only" sell for $1,000.00 to $5,000.00 each. Johnson died in Mississipi
in 1956.
This was the first public sale of a Tommy Johnson Paramount 78 rpm
record. Tefteller says he was "blown away" when he saw it listed on eBay
and knew that he had to bid "very seriously" in order to acquire it. A
total of 29 bids were placed during the auction with Tefteller's final
bid being the winner.
"I can't wait to have it properly re-mastered and share it with the
world" say Tefteller, who resides in Grants Pass, Oregon and deals in
rare Rock and Roll and Rhythm and Blues 45's and 78's while maintaining
what has been called by those who have seen it as "the world's best
collection of Blues records and memorabilia" and "The British Museum Of
The Blues." Tefteller specializes in collecting the Paramount label, run
out of a furniture factory in Port Washington, Wisconsin from the early
1920's to the early 1930's. Historians recognize Paramount as the most
innovative and creative independent record label from that time and
anything on the label is coveted by record collectors worldwide.
"The original masters for these recordings were all destroyed by World
War Two. The only way we can hear them now is rescue the few remaining
commercial copies which are in private homes," explains Tefteller. "We
have to seek out the best or only copies that exist today and remaster
from those." There are a number of legendary records by master Blues
musicians of the time that have yet to be found. "Find me the missing
Willie Brown or J.D. Short on Paramount label and you will see me
writing REALLY big checks." Tefteller said.
Tefteller can be reached by email: john@tefteller.com or by phone at
541-659-7175. His website, Blues Images, can be seen at www.bluesimages.com