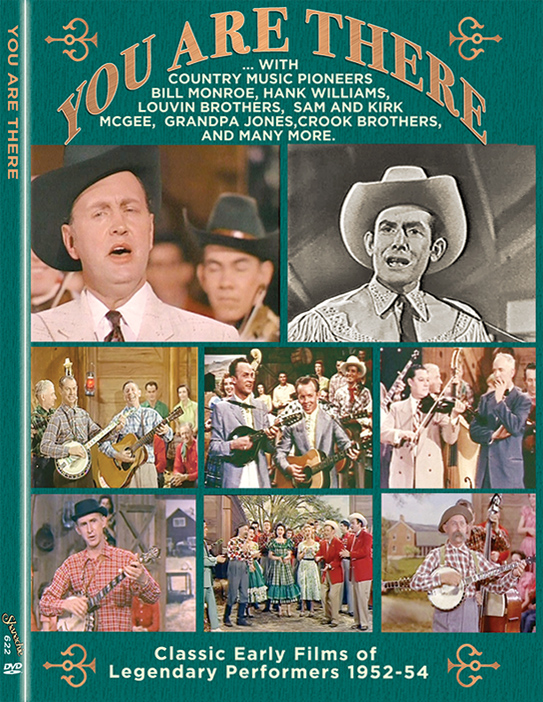 DVD of classic Country performances from
the early 1950's (a Yazoo release)
List price: $19.99

Special price for
Blues Images customers:
$15.95!

+ s/h
• Add to cart and check out
• Add to cart and keep shopping
• View your shopping cart
• You Are There is a video collection of great performances from the early 1950's by some of the most famous and influential Country music performers of all time! Six classic selections by the legendary "father of Bluegrass," Bill Monroe, preserved on beautiful 35mm color film and the only video capturing Bill and his band at the very height of their powers in their early days. Plus four black and white selections by Hank Williams, universally recognized as the greatest country performer of all time! These selections by Hank are the ONLY surviving film of his music and, as with the Monroe videos, some of this film has not been seen by anyone in over 60 years!
• Performances by Country music icons like The Louvin Brothers, Sam and Kirk McGee, Grandpa Jones, Lonzo and Oscar and many more, all from stunning color 35mm film from the early 1950's – 29 selections in all!
• This DVD offers an almost magical viewing experience, transporting one vicariously back to another time and place, not only musically, but socially and culturally as well. You are there in the early 1950's America, taking in, as if in person, some of the greatest music of the period (and for that matter, some of the greatest ever) and feeling, with immediacy, the appealingly reassuring atmosphere of the times.
Shipping & Handling Rates for:
You Are There Classic Early Films Of Legendary Performers
U.S.: $4.00 for first item; $2.00 for each additional item
Canada: $12.00 for first item; $5.00 for each additional item
Europe, Australia, Japan: $18.00 for first item; $6.00 for each
additional item
For 6 copies or more, please contact us for s/h rates.